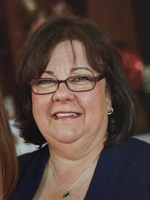 TOMBALL, TX – When the Lone Star College-Tomball Fine and Performing Arts department hosts its summer musical, "The Drowsy Chaperone," July 12-15 in the Performing Arts Center, it will be the first time in over a decade without Sherri White as director. White passed away on February 15.
"Sherri was a highly regarded and very successful drama instructor for many years, winning multiple statewide awards for her productions," said LSC-Tomball President Dr. Lee Ann Nutt. "She was passionate about her profession and completely dedicated to her craft. Beloved by her students, her family, and her colleagues."
White, a professor for 36 years at Lone Star Colleges North Harris and Tomball, taught thousands of students, instilling lifelong skills of public speaking, acting and character development, confidence, responsibility, professionalism, humor and kindness. She started working at LSC-Tomball in 2004.
Dr. Lisa Morales, LSC-Tomball Fine Arts chair and music program director, said the selection of "The Drowsy Chaperone" for this summer's musical was a decision White made and it will be directed by those who worked closely with her over the years. Carey Chuter is the director; Mary Jane Tautenhahn Jones is the music director. LSC-Tomball Performing Arts Center Manager Denton Davies is the manager and technical director for the show.
Morales described "The Drowsy Chaperone" as a delightful romp through the early 20th century in the form of a musical within a musical. She added that audiences can expect slapstick comedy, fun theatrical effects, and a very entertaining evening. Tickets are currently available for purchase online
Chuter, who has worked as a performer, choreographer, and director for the past 29 years, said directing the summer musical in White's absence is bittersweet.
"I met Sherri Ryan White 26 years ago," Chuter recalled, before adding, "She was a dear theatre professor of mine, as well as my forensics coach. I have fond memories of performing in her production of Neil Simon's "Rumors" with my future husband; of her reading scripture at my wedding; attending every show my son performed in - she was family. I was blessed to work with my friend, Sherri, on every summer musical that LSC-Tomball has ever produced. So, to be doing this without her, to be stepping into her shoes as director is something much more than an honor."
Likewise, Jones said she met White in 1979 at North Harris County College.
"She was holding auditions for her first show Come Blow Your Horn, Jones recalled. "I was cast in the show, and our lives became forever entwined. I had already graduated from Sam Houston the year before. I was cast in several more productions there in the form of plays, musicals, reviews, and contests. I accompanied her musical "You're a Good Man Charlie Brown" and was music director on two musical reviews and "Man of La Mancha." Sherri mentored me on several of my own shows. Jones went on to note that White always viewed every performances as a gift to the community.
"It was to be performed with 100 percent of heart and soul," Jones stressed. "She always reminded us that there could be audience members who had never seen a musical before
and we had this opportunity to change lives. She reminded us of this charge when we had "circle time." We would all hold hands in a large circle with our arms crossed, right over left before every performance. Sherri would thank each cast member, the orchestra, every backstage person, volunteer and even her husband Jack for their hard work. Sherri never took anyone for granted. She knew the importance of having energy on stage and never gave up on receiving it. We would send a squeeze hands (energy) from one to the next and then shout "Good Show!"
LSC-Tomball will dedicate the Performing Arts Center to White in a special ceremony in August. In addition, to honor White's creativity and dedication, friends and family have established the Sherri Ryan White Endowed Drama Scholarship for students with a passion for drama, theater, and film. Once fully endowed, this scholarship will assist selected recipients with their tuition, fees, and other expenses in perpetuity.
There are three ways to give to the Sherri Ryan White Endowed Drama Scholarship:
Mail a check made out to "LSC Foundation" - LSC-Foundation, 5000 Research Forest Drive, The Woodlands, TX 77381.
Phone in credit card information to our accountant: (832) 813-6638.
In each case, please indicate the Sherri Ryan White Endowed Drama Scholarship as the receipient.
[Digital photo available: Cutline – "Beloved former theater program director Sherri Ryan White began working at LSC-Tomball in 2004."]
Lone Star College-Tomball Performing Arts Center is located at 30555 Tomball Parkway, at the intersection of SH 249 and Zion Road. For more information about the college, call 281.351.3300 or visit LoneStar.edu/Tomball.
-30-