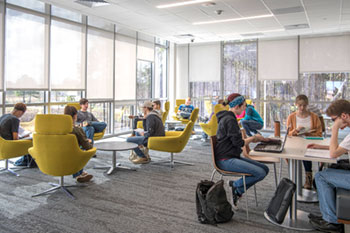 Process Technology is one of the fastest growing careers in the Houston area, due to baby boomers retiring from the field.
Lone Star College-Kingwood's Process Technology program prepares graduates for entry-level careers as process technologists/operators in the petrochemical, plastics, food and beverage, and pharmaceuticals industries.
"The chemical and refining industries are in great need of process operators/technicians due to a large number of seasoned operators retiring in the next five to seven years," said Linda LaCoe, director of process technology at LSC-Kingwood.
To learn more about the program, LSC-Kingwood invites the community to its fall Process Technology information sessions on Oct. 9 and Nov. 13 from 6-7 p.m. at the LSC-Process Technology Center room 107. The purpose is to inform prospective students about the program's associate of applied science degree (AAS), certificate, and the job duties of a process operator/technician.
To be accepted into the Process Technology program, students must be at college level in reading, writing, and math. Students should possess aptitude in science and math, have good interpersonal and communication skills, and be a team player.
"Our goal is to prepare students to be competent and confident in the field of process technology and operations," said Maribeth Stitt, dean of the Business, Technology, Communication and Languages Division at LSC-Kingwood.
Process Technology courses include an introduction to process technology, process instrumentation, safety, health and environment, process systems, principles of quality, and troubleshooting.
The LSC-Process Technology Center is located at 14001 Lockwood Road in Generation Park. For more information, call 346-773-3807, email Linda.LaCoe@LoneStar.edu, or visit www.lonestar.edu/lsc-process-technology.
Register now for credit classes online through myLoneStar. Classes are offered days, evenings, or weekends in traditional, online and hybrid formats. For more information or to register online, visit www.lonestar.edu/registration. For general information about Lone Star College-Kingwood, call 281.312.1600 or visit http://lonestar.edu/kingwood.
Lone Star College offers high-quality, low-cost academic transfer and career training education to 99,000 students each semester. LSC is training tomorrow's workforce today and redefining the community college experience to support student success. Stephen C. Head, Ph.D., serves as chancellor of LSC, the largest institution of higher education in the Houston area with an annual economic impact of nearly $3 billion. LSC consists of six colleges, eight centers, two university centers, Lone Star Corporate College and LSC-Online. To learn more, visit LoneStar.edu.
###