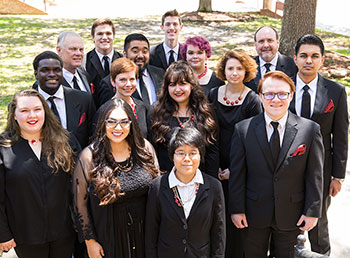 The Eclectic Voices of Kingwood (Evok) earned a stellar reputation via its performances with various superstars.
Evok's latest work with Josh Groban showcased their incredible talent, which caught the attention of Sarah Brightman's team. Based on their exceptional performance, the choir will sing back up for the Broadway star on Feb. 25 at 8 p.m. at the Smart Financial Centre in Sugar Land.
"On one hand, this alone is an amazing experience. I get to meet one of the most well-known vocalists in Broadway's recent history," said Rhiannon O'Brien, a music performance student at Lone Star College-Kingwood. "On the other hand, this opportunity will expand my performance experience, and give me a better understanding of my future career as a professional performer."
Brightman has more than 30 years as an international star performing in world-renowned theatres, arenas, cathedrals, world heritage centers, and Olympic stadiums. According to her bio, "she is the only artist to have simultaneously topped the Billboard dance and classical music charts." Brightman's career took off when she appeared as the original "Christine" in "Phantom of the Opera." Andrew Lloyd Webber wrote the role specifically for her.
"I know this opportunity will be educational and it will be the biggest classically oriented event I've participated in," said Brendan Tanamachi, an Evok performer and LSC-Kingwood graduate. "I am a huge fan of 'Phantom of the Opera,' and knowing that we will accompany the original 'Christine' makes me excited. I appreciate the surreal nature of this opportunity."
Evok consists mainly of Lone Star College-Kingwood students, but there are also a few degreed professionals in the group. The 32 singers will perform many of Brightman's songs featured on her newest album, "Hymn," which will result in the choir being on stage most of the concert. This exposure not only brings local talent into the spotlight, but it also exposes college students to a career that they are working hard to achieve.
"I am proud of the work of our students and our Evok choir. Because of their hard work, the current crop of students can obtain real-life experience in the exciting world of large performance tours," said Dr. Todd Miller, professor of music and conductor at LSC-Kingwood.
LSC-Kingwood's Evok started in 2012. Its unique repertoire includes a broad range of vocal genres such as madrigals, sacred motets, vocal jazz, modern, American classics, popular and more.
"I encourage all area high school choir students to look seriously at our program which gives excellent performance opportunities at a fraction of the cost of going to university," Miller said.
For more information on Evok, email Todd.R.Miller@LoneStar.edu. For additional details on Brightman's Hymn tour and concert, visit http://smartfinancialcentre.net/event/sarah-brightman.
Register now for credit classes online through myLoneStar. Classes are offered days, evenings, or weekends in traditional, online and hybrid formats. For more information or to register online, visit www.lonestar.edu/registration. For general information about Lone Star College-Kingwood, call 281.312.1600 or visit http://lonestar.edu/kingwood.
Lone Star College offers high-quality, low-cost academic transfer and career training education to 99,000 students each semester. LSC is training tomorrow's workforce today and redefining the community college experience to support student success. Stephen C. Head, Ph.D., serves as chancellor of LSC, the largest institution of higher education in the Houston area with an annual economic impact of nearly $3 billion. LSC consists of six colleges, eight centers, two university centers, Lone Star Corporate College and LSC-Online. To learn more, visit LoneStar.edu.
###