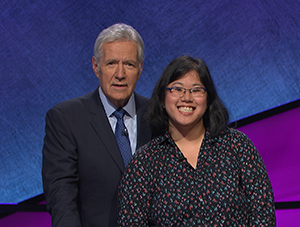 TOMBALL, TX – The adage says, "You miss 100 percent of the shots you don't take." When the opportunity presented itself for Amanda McClendon to take a shot at being a contestant on the classic game show Jeopardy!, she went for it and found herself on national television competing against some of the brightest minds on the planet.
"It was a long shot, and I really didn't think I would get in," McClendon, adult services librarian with the Harris County Public Library side of the LSC-Tomball Community Library, said of the game show. "I just went for it, and I got selected. There was one person in the audition with me who was trying for the seventh time to get on the show. I can say that he is very persistent."
Jeopardy, which first aired in 1964 and has been hosted for many years by Alex Trebek, is a classic game show –– with a twist. The answers are given first, and the contestants supply the questions. Three contestants, including the previous show's champion, compete in different categories over three rounds with each round's answers being worth more prize money.
As for the process of getting on the show, McClendon said she first had to take an online test. She did well on the test and was called in for an in-person trial to test her knowledge and also to see if her personality was a good fit for television. Her audition was scheduled for August 2017 but was rescheduled due to Hurricane Harvey. The episode in which she competed aired May 30.
As for nerves, McClendon said she did not have any.
"It was weird, you get into a zone where you have to think a lot, so I was just in this zone and didn't feel nervous," McClendon recalled. "I answered the most questions right out of the contestants on the show, just not the right ones. Final Jeopardy got me."
Final Jeopardy is the third round of the competition where contestants can name their own potential jackpot – as long as it's within the amount of money they've already earned. If a player finishes the second round with zero dollars, they can not participate in Final Jeopardy.
"I came in third place and walked away with $1,000," McClendon said, before adding, "I had a blast. I did the best in the Author category. Working in the library really helped in that particular category. The toughest category for me was Tribal States, which was naming states where Native American tribes currently live."
Whether McClendon has plans on taking more long shots at game shows, she said Jeopardy's rules prohibit her from being on any other show for two years, "But after the two-year wait, I will probably try for Wheel of Fortune."
[Digital photo available: Cutline – "Tomball librarian Amanda McClendon appeared on Jeopardy! with host Alex Trebek on May 30."]
Lone Star College-Tomball is located at 30555 Tomball Parkway, at the intersection of SH 249 and Zion Road. For more information about the college, call 281.351.3300 or visit LoneStar.edu/Tomball.
-30-
Lone Star College offers high-quality, low-cost academic transfer and career training education to 99,000 students each semester. LSC is training tomorrow's workforce today and redefining the community college experience to support student success. Stephen C. Head, Ph.D., serves as chancellor of LSC, the largest institution of higher education in the Houston area with an annual economic impact of nearly $3 billion. LSC consists of six colleges, eight centers, two university centers, Lone Star Corporate College and LSC-Online. To learn more, visit LoneStar.edu.