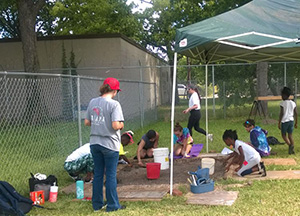 While literally digging into Freedmen's Town history, Lone Star College-CyFair students recently uncovered unique artifacts sparking interest in archaeology and neighborhood history for some area children.
A group of Freedmen's Town children (ages 5-13) recently spent the day with LSC-CyFair Professor Dr. David Bruner's students as they excavated artifacts in the backyard of the Simms House on the Rutherford B. H. Yates Museum property.
"It was amazing getting to teach the Camp Logan kids about archaeology and how to dig and sift for artifacts, said Jasmine Lee, one of Dr. Bruner's students. "Even though they had fun, they really took it seriously and were curious and careful with every find regardless of its importance."
When they came across bone fragments, the children hoped they were on the verge of finding a dinosaur. Only a silver dinosaur charm was found on another day, said Lee. However, one of the children found a Hot Wheels car from the mid-1970s, which still stands as one of the coolest finds of the summer.
"Seeing their eyes light up with each discovery was truly special," said Lee. "I hope that this experience opens up avenues of study that they may not have thought of pursuing before."
Some of the notable finds this summer were pieces of broken pottery and dinnerware, a cologne bottle from a company in Massachusetts and various animal bones, she said. Using the maker's mark on a piece of faux porcelain, students were able to date finds to the pre-1890s.
In addition to the backyard digs, students renovated interior space in the museum's Simms House to create a temporary archaeology lab for processing those artifacts. Some of Dr. Bruner's students also helped to organize and combine all past archaeological efforts to create a master catalog of the artifacts, which had been noted with different systems.
"Our work at the museum is key to preserving and sharing the deep cultural significance of Freedmen's Town and the people who persevered through the unimaginable," said Lee, who plans to graduate in May and looks forward to a career in activist anthropology. "It is important to tell the stories of the communities that have contributed to our rich and vibrant culture."
Another student and future anthropologist Kyle Cooper said holding real artifacts in his hand pulled from the earth is a feeling that's hard to put into words, but the digs are "hands down the best experience." He's also learned about working together toward a common goal.
"Archaeologists have a unique responsibility on certain dig sites," said Cooper "The next inch of soil you remove could be hiding an artifact with the potential to rewrite history books, so comradery is a must."
Dr. Bruner said LSC-CyFair's partnership with the museum, which benefits the community and city in preserving history, will be ongoing. With only about 5% of the museum land currently excavated, there is an inexhaustible source of land for dig projects. As part of an honors capstone project he has planned for the fall, Dr. Bruner's students will continue excavating and processing artifacts in the lab, but they will also do research on artifacts to make interpretive plaques for use in new mobile glass displays that will be housed at the museum and possibly on the college campus.
Students participating in this summer archaeological field school (ANTH 2389 – Academic Cooperative in Anthropology) offered in partnership with the museum, not only received Service Learning credit, but gained real-world dig experience deeming them hirable as a level one archeological field tech, said Dr. Bruner. Such hands-on projects done outside the classroom helps students with admission into prestigious liberal arts colleges, four-year universities or graduate programs as well as receiving scholarships.
Registration is open for LSC-CyFair's fall semester, which begins Aug. 27. For information on the anthropology program, email David.E.Bruner@LoneStar.edu.