President's Update
Looking Forward While Celebrating Our Past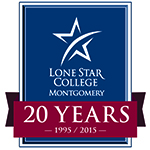 Greetings, Colleagues, and happy anniversary! As we begin our 20th year, we have much to celebrate. We are enjoying record enrollment on this beautiful campus, and everyone seems to be full of optimism about our future. Whether you have been here for all 20 years or have just arrived, you can feel the strength of this young institution's heritage in the energy and dedication of our faculty and staff. At convocation this year, we learned that the Chancellor has prioritized student success, academic and workforce program quality, partnerships, financial responsibility and accountability, and culture.
You may recall that I reconfigured the Top Five to put student success at the top of a pyramid, supported by the remaining items and surrounded by culture. Lone Star College-Montgomery was founded on a culture of high academic standards in a student-centered environment. The founding faculty and staff were selected carefully to support that culture. As the college grew, its mission expanded. It is fair to say that we are an engine of the American Dream in our community. The role of the community college in the economic and cultural future of our country is critical. No college is better positioned to fulfill this role than Lone Star College-Montgomery.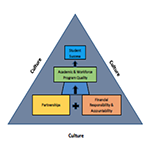 This is a time to honor our 20-year past, but it is also a time of new beginnings. We must put our tremendous capacity and talent to work in ways that we may not have considered in the past. It's a good time to consolidate all that we learned from past initiatives. The last several years represent a period of great change. It helps to take a long view to put it in perspective. When I started as an adjunct instructor a little more than 20 years ago, there were no online classes, most people didn't use email, the average faculty member either didn't use a computer much at all or used it as a glorified typewriter, and we kept an IBM Selectric in the office for typing forms! The library collection was all about hard-bound books. Research meant combing through indexes and catalogs searching for relevant literature page by painstaking page. Information was still curated, for the most part, by editors who decided what would be put on the pages of a book, what would end up on the nightly news, and what would go to print in a newspaper or magazine. No one had a cell phone. The attention span of most students was adequate enough to accommodate the predominant teaching mode at the time, the lecture. And the lecture was well-suited to the time-honored professorial role of, well, professing. We were the curators and repositories of information and knowledge; we possessed the expertise, and we were to transmit it.
These are not just the nostalgic musings of a seasoned educator about a quaint and distant academic past. This is a look back across a sea change - cultural, economic, political, and academic. And while I always had more of a constructivist view of learning and knowledge than the teaching role described above, I am acutely aware of the contrast between then and now. It is no wonder that we engaged in one attempt after another with our alphabet soup of initiatives to negotiate the new world we were entering. I maintain that it was well-meaning and perhaps even necessary, especially in hindsight. It was our attempt to live through extreme and rapid change in a conscious manner.
On the other side of that era of fundamental change, we are now looking at a different academic landscape. Our students have access to essentially all the information in the world, good and bad, correct and incorrect, speculative, imaginative, and concrete – almost anything they want to know. Many of their information sources are not edited or curated in any practical sense. They are, in fact, constantly contributing to the stream of information they share. As digital natives, they are equipped differently to deal with that abundance. They know how to multi-task, but they may not be very good at a sustained effort. They live in a global world. They live in a world of growing income disparity. Their heavily mediated world has given them big dreams, but often little means. Their lives will be very different from those of older Americans; they can expect to have many more jobs in their lifetime than previous generations, and most of the jobs require postsecondary education.
Given the high stakes attached to students completing a certificate or degree (a meaningful living wage, the critical skills to navigate job changes and technological advances, etc.), we must find new ways to increase completion. Consider these facts:
Half our students don't return fall to fall.
At any given time, about a quarter of our students are on academic warning, probation, or suspension.
The average course load for our student body is fewer than 3 classes (when dual credit students are taken out of the mix). At that rate, it would take 20 semesters to complete an associate's degree! Students who place into developmental education have an additional challenge and additional time to degree.
On the other hand, I think we can take heart in our successes. LSC-Montgomery is meeting or beating the system average in successful course completion rates and many other measures. Flipping the stats cited above means that 75% of our students are in good academic standing, and half of them do return fall to fall. Moreover, we are awarding more certificates and degrees than ever before. We shouldn't view the landscape as bleak, but we should be deliberate about improving the outlook for our students.
I think this is a great time for us to reflect on teaching and learning practice and philosophy. I've been reading about some excellent work being done at Valencia College in Florida. Take a look at http://valenciacollege.edu/faculty/development/coursesResources/ to learn more about the approach developed by their faculty and administration. Another resource comes from the Aspen Institute (which recently honored Valencia College):http://www.aspeninstitute.org/sites/default/files/content/docs/pubs/BuildingaFacultyCulture.pdf
This fall, our new vice president of instruction, Dr. James McGee, will lead a taskforce to develop a vision for a teaching and learning center at Montgomery. It will be one of our "new beginnings" as we learn together as teaching scholars about improving our practice.
---
Strategic Planning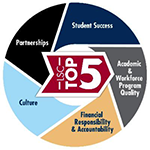 Our 20th Anniversary year coincides with a new cycle in strategic planning – more new beginnings. We started the process with a retreat for deans and VPs on September 8 and 9. During the retreat, members became familiar with the details of the Chancellor's Top Five and the goals under each one. Key Performance Indicators and targets were set for each of the Top Five. Divisions and departments will begin aligning their strategies and actions to the Top Five/Goals in the fall cycle. At the same time, you will have a chance to complete your Unit Effectiveness Plans from last year and take stock before embarking on the new cycle.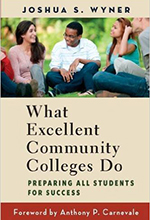 The data we reviewed included information relevant to all five of the Chancellor's priorities, including an environmental scan and population growth projections for our service area. As a result of projected employment opportunities, we will prioritize health occupations, computer science and CIT, and engineering for growth in addition to programs unique to our campus, such as LET. As targets are finalized, I will share them with everyone.
We will strive to keep our plan and strategies simple and transparent. A good framing document for thinking about next steps is the book What Excellent Community Colleges Do, by Josh Wyner of the Aspen Institute. Each of the deans and VPs received a copy and read it prior to the retreat. I am providing a copy of the book to each department chair and director as well. It's good to have a "common read" as we undertake a new beginning, and this book has many best practices and references that can be useful to us.
---
Anniversary Datesavers
Regarding our 20th anniversary, please mark these two dates on your calendar:
Saturday, Oct. 3 – 20th Anniversary Community Showcase (11 a.m.-4 p.m.) in Maverick Square. Join with fellow faculty, staff and students as we celebrate our anniversary with the community. Music, program fair, food/snacks, games, campus tours and more! Be a part of this exciting event.
Friday, Dec. 4 – "20 Years of Montgomery Magic": Employee Holiday/Anniversary Lunch & Celebration (11:30 a.m.-1:30 p.m.) in the Atrium of Building B. You'll hear more details about this special event later in the semester.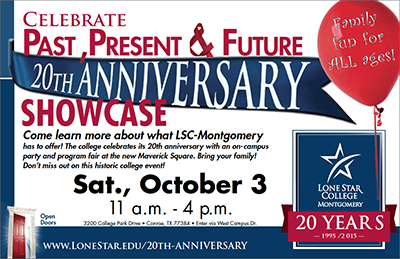 ---
Safety and Security
By now, everyone on campus should have received a link to a video below outlining procedures in an emergency involving an armed intruder. If you have not taken time to review the video, please do so. It is vitally important that faculty and staff be well-informed about safety. Students also received a link to the video. Please encourage them to watch it.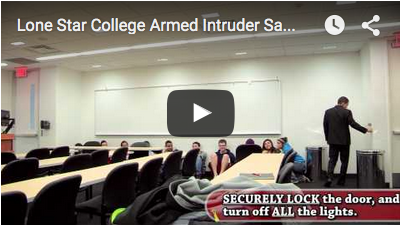 I hope you'll join me in expressing appreciation to our campus police. The week of September 1 was a challenging one for law enforcement. Our officers work tirelessly to keep the college safe and secure. They have worked especially hard here at Montgomery to mitigate the negative effects of the changing traffic patterns brought about by the completion of the flyover. Give our officers a thank you for helping us weather the busy semester start-up and for their support throughout the year.
---

Campus Personnel Changes
As you know, we welcomed two new vice presidents (instruction and student success) to Montgomery at convocation. Stop by building E to meet Dr. James McGee and Dr. Michael Chavez if you have not had a chance to greet them. Unfortunately, we said goodbye to Mike Krall on September 1 as he became acting associate vice chancellor for academic affairs. Mike is busy at the system office in his new role, while Kitty Gronlund has graciously agreed to take on the interim dean of NaSH. We will post the dean position this fall and will fill the position once the AVC is finalized.
Faculty are permitted to drop students for non-attendance during the course of the semester as appropriate. However, I encourage faculty to obtain reliable contact information for all students in your classes and to try to reach out to them before initiating a drop. Often, students do not realize they can salvage a course after a family emergency, work interruption, or illness. This is especially true if faculty intervene early and reach out after just one or two absences. I know that many faculty do not initiate drops, believing that this is the student's responsibility. Either way, I hope you'll reach out to students who encounter difficulties in your classes before their situation is no longer viable.
---

Friday Night Lights

If you've never understood where this expression originates, this fall you have a chance to experience it firsthand. LSC-Montgomery is tailgating at several high school football games in the area, passing out pom-pons, showing off our mascot, and providing information about the college to students and their parents. It's great fun, and we've been very successful in getting prospective students interested in the college. My husband, who grew up in Queens and loves football, had never seen a high school game the way it's done in Texas. When we passed out souvenirs at The Woodlands High School game and then sat in the bleachers filled to capacity for the season opener, he said, "OK, now I understand why 'Friday Night Lights' is such a big deal!"

So whether you haven't been to a game since your own high school days or are a regular, I invite you to join the team for tailgating fun. It's a great opportunity to let folks in the community know what a great place LSC-Montgomery is to study. Remaining games and their locations are:

Saturday, Sept. 26: Oak Ridge vs. Kingwood (Woodforest Stadium; 4:30 p.m.)
Friday, Oct. 23: Montgomery vs. Klein Collins (Montgomery H.S.; 5:30 p.m.)
Friday, Nov. 6: Magnolia vs. Magnolia West (Magnolia West H.S.; 5 p.m.)
Friday, Nov. 6: Conroe vs. College Park (Moorhead Stadium – Conroe H.S.; 5:30 p.m.)

For more information, contact Steve Scheffler in the Office of College Relations (273.7224).




---

"Change Matters" Employee Giving Campaign

Kicks Off Sept. 15

You've probably heard that the LSC Foundation has initiated the first employee giving campaign since 2012. This is a prelude to a full Capital Campaign that will engage the external community in 2016. Employee giving campaigns are important for several reasons. First, the money raised goes directly toward LSC student scholarships, program funds, and employee assistance. So, it makes an immediate impact within our college community. Second, many of the big corporate and individual donors want to know that an institution's employees are "bought in" to the campaign. With employee giving, the percentage of givers matters just as much as the amount given.

So, this Tuesday we'll kick off the "Change Matters" campaign in conjunction with our traditional Maverick Appreciation Day - the all-campus, lunchtime cook-out in the outdoor patio of the Commons, Bldg. A. Come enjoy a free lunch and learn more about the campaign at the same time. Then, later in the week, all employees will receive pledge cards from the campaign captain in their area.

Please carefully consider the benefits of giving to the LSC Foundation. If you have any questions about the campaign or the Foundation, our campaign coordinator is Jan Thornton (936.273.7489; jan.thornton@lonestar.edu; E103). To motivate you, here is the "Change Matters" video:

---

Phase I Bond Projects Move Forward
Over the past several months, there has been a lot of activity with the college's phase one bond projects. Here's a quick re-cap of what's been happening:
Conroe Center Workforce Expansion: The programming phase has begun, with plans to expand the CNC machining, welding and automotive technology program areas by 15,000 square feet. Workshops were held this summer to identify space use and deficiencies, discuss future scenarios, develop a list of spaces, etc., which will lead to the completion of the summary program this fall. Jones Lang Lasalle (JLL) is our project manager for all of our phase one projects. Construction should begin in early 2016 with completion by the end of the year.
Live Entertainment Technology (LET) Expansion: LET, which is one our unique (and growing) programs that has literally run out of space, will soon have its own 5,000-6,000 square-foot building on the east side of campus – behind the Music Hall. Like the Conroe Center expansion, this is in the programming phase with JLL. Some members of the programming team visited a Cirque du Soleil training facility in Las Vegas to gather best practice ideas for this new learning space. The timeline for this project is similar to the Conroe Center.
Magnolia Center: Most of the activity with regard to this project has centered around land acquisition. Finding the right piece of land in the growing Magnolia area is critical to the future success of this center. While this is still a phase one project, it is impossible to determine a specific timeline until the land is acquired.
---
Faculty Spotlight
Renee La Rue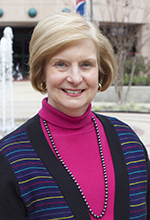 Renee La Rue, full-time instructor in the English for Speakers of Other Languages (ESOL) program, is influential in helping students reach reading, writing, listening and speaking fluency in English at a level that will allow them to meet their education, professional and personal goals. She is also committed to sharing with other faculty the richness that multicultural students can bring to their classroom.
"Teaching is the most important gift we can give our students. My goal, after 11 years of teaching at LSC-Montgomery, is to continue to help them succeed and advance, and I am proud of what my students are able to achieve."
La Rue is also actively involved in The Write Place, advisor training, communication across the curriculum (CAC), and various LSC committees.
---

Staff Spotlight:
Mozhgan Pourasadollah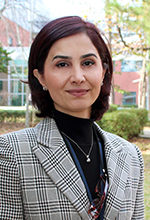 For learning center specialist Mozhgan Pourasadollah, she has had many challenges to overcome in her life, but she has reaped the rewards of her tenacity. As a bilingual expatriate from Iran, she thought medical school was the path for her until she found her talent and interest in business. With a degree in business, she held various positions through her career, ranging from office coordinator to manager.
In 2007, Pourasadollah moved to the United States in search of achieving new goals, only to find the language barrier had placed a vale on her current abilities. Tackling English for speakers of other languages (ESOL), and other classes at LSC-Montgomery, she was able to achieve bilingualism, receive an education, and secure employment on campus.
"I am always reminded of the reason I give my best to my students and colleagues," Pourasadollah said. "I appreciate the opportunity to work in a setting where people care about quality and commitment."
Currently enrolled in the MBA program at Our Lady of the Lake University and maintaining full-time employment at LSC-Montgomery, Pourasadollah has learned the value of being involved, the passion for leading by example, and the importance of excelling in order to maintain a better life.