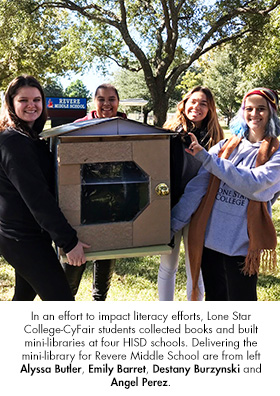 Dr. Seuss said "The more that you read, the more things you will know. The more that you learn, the more places you'll go." Thanks to 13 Lone Star College-CyFair students' library outreach project, hundreds of Houston Independent School District children will have more to read.
This fall, LSC-CyFair students in the "Finding Me" Learning Community (EDUC 1300 and 1301), along with their professors Shamim Arastu and Valerie Jefferson, partnered with Amaanah Refugee Services, a community organization which provides services for refugee children and their families, to promote literacy in the community.
After these future teachers read articles on how literacy is an important foundation in language development and learned about the impact literacy has on diverse populations, they researched schools with English Language Learner (ELL) students and found while some had libraries, there was not enough funding for them to be staffed year round.
As their Service Learning (SL) project, students collected books and built mini-libraries for schools that served ELL refugee students and children from low-socioeconomic backgrounds. They recently delivered the mini-libraries to HISD's Walnut Bend Elementary, Las Americas Middle, Jane Long Elementary and Paul Revere Middle schools. Additionally, they created handouts and enrichment activities for a Science, Technology, Engineering and Mathematics (STEM) program they also held at these schools.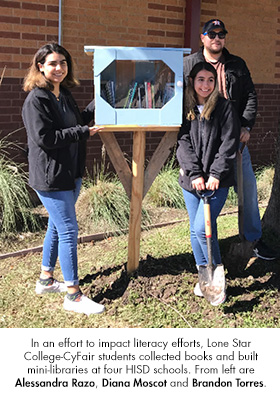 "Working as a service provider within the school districts in Houston has allowed me to see the need for more books for our students," said Devin Sanders, Program Coordinator with Amaanah Refugee Services. "These mini-libraries will provide our students with the opportunity to read and have access to books at any time."
The SL project impacted LSC-CyFair students, including Destiny Navarro. She said the experience provided perspective on how different funding and school environments can be just 30 minutes down the road.
"I love the fact we were able to do something for the schools that the students would love," she said.
Classmate Alyssa Butler, who was glad to be a part of something that made so many children happy, said. "It made me feel so excited to become a teacher, because I can see myself continuing to make a difference."
LSC-CyFair will continue collecting books each semester to help sustain the mini-libraries, said Arastu.
To donate books or for information on this Learning Community, email Shamim.Arastu@LoneStar.edu or Valeriej@LoneStar.edu. Spring registration is under way. For information, go to LoneStar.edu/registration.