LSC-North Harris ESOL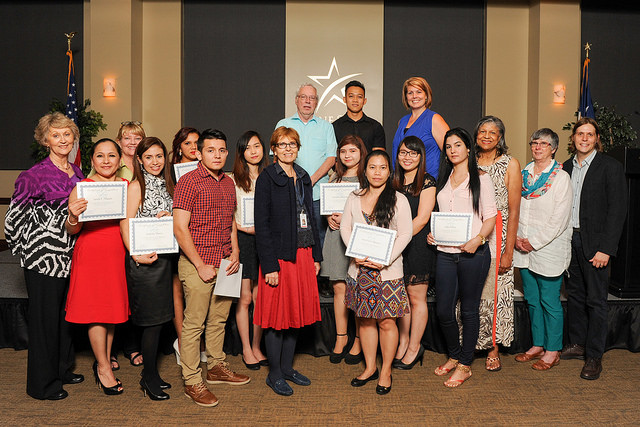 Learn English with Us!
ESOL courses at Lone Star College-North Harris are designed for students who are interested in improving their English skills, including grammar, writing, listening, speaking, reading, vocabulary, and pronunciation.
ESOL classes are designed for students who want to:
find a better job

take college-level (university) classes to study for a career

improve their day-to-day communication
LSC-North Harris offers a variety of facilities and services to our students:
Flexible schedules: day and evening classes
Financial aid for citizens and permanent residents who qualify
Free access to the computer laboratories
Free tutoring at the English Tutoring Center
Workshops and support groups
Computer laboratory with e-mail and Internet access
Sports and athletics: intramural sports, gymnasium, tennis courts, track
29 student organizations and clubs, including the International Student Alliance (ISA)

Watch a video about our ESOL Program at North Harris

Academic ESOL Program
The Academic ESOL program at LSC - North Harris is a member of the American Association of Intensive English Programs (AAIEP) and is accredited by the Southern Association of Colleges and Schools (SACS)
Students may register for the Academic ESOL program as a Credit (academic) student or as a Continuing Education student (no visa requirements). Academic ESOL courses occur during the fall, spring, and summer semesters:
Fall - August to December (16 weeks)
Spring - January to May (16 weeks)
Summer - June to July (6 weeks)
For current Fall, Spring, and Summer Course Schedules, please click here.

The Academic ESOL program aims ot prepare ESOL students for college-level study. The courses are divided into four subject areas: grammar, reading, writing, and oral communication. The chart below shows the 20 main courses that are part of the Academic ESOL curriculum at Lone Star College. Click on each course for its description and course outcomes.
| | | | |
| --- | --- | --- | --- |
| GRAMMAR | READING | WRITING | ORAL COMMUNICATION |
| | | | |
| | | | |
| | | | |
| | | | |
| | | | |
Basic English Classes
The Academic ESOL Program also offers Basic English courses for beginners, including a 8-week course on basic listening, pronunciation and reading, and another 8-week course on basic grammar and writing. Students interested in these courses should viisit the ESOL Center to register.

ESOL Center
The ESOL Center offers complete service for new and returning ESOL Students. The process includes information about classes, filling out an application, taking a placement test, registering for courses, and advising for other student questions and concerns. The ESOL Center is located in the Student Services Building of the LSC-North Harris campus, Room SB-110.
Mission Statement
The mission of the Lone Star College-North Harris ESOL Program is to provide a dynamic learning community distinguished by excellence in teaching, allowing non-native English speakers to acquire English language and cultural adaptation skills that are essential for functioning and succeeding in academic, workplace, and social environments.