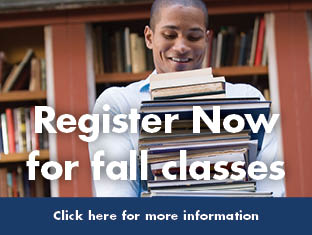 Registration is underway for Fall, Summer and Mini-mester classes
Registration is underway for LSC-Tomball Fall, Summer I, Summer II as well as for our May Mini-Mester. Take advantage of these fast-track methods to getting ahead with your degree plan. 
more
---
Star of the Month: Alan Abbott
Lone Star College-Tomball student Alan Abbott is one busy young man. A dual-credit student who began taking classes at the college in fall 2012, Alan, 18, will graduate high school this May and then continue at LSCS for an additional year to gain not only further college credit, but valuable life skills.  
more
---
LSC-Tomball Theatre to Hold Open Audtitions for "Shrek: The Musical"

The Lone Star College-Tomball Theatre Department will hold open auditions for its summer musical production of "Shrek" on Wednesday, April 30 at 5:30 p.m. and Saturday, May 3 at 10 a.m. in the Black Box Theater (E 171).  
more
---
Lone Star College-Tomball Holds "Painted Ladies" Art Exhibit

The LSC-Tomball Art Gallery is showing the art of a group of nine painters that call themselves the "Painted Ladies." Working as a group for more than 10 years, they originally met in a painting class taught by LSC-Tomball art professor Earl Staley. Each of the women's painting style is quite different, ranging from realistic representation to abstract. The exhibition runs through April 30 at LSC-Tomball Art Gallery in the Beckendorf Conference Center.
more
---